5SecondsApp
Create animated GIFs from your photos and videos.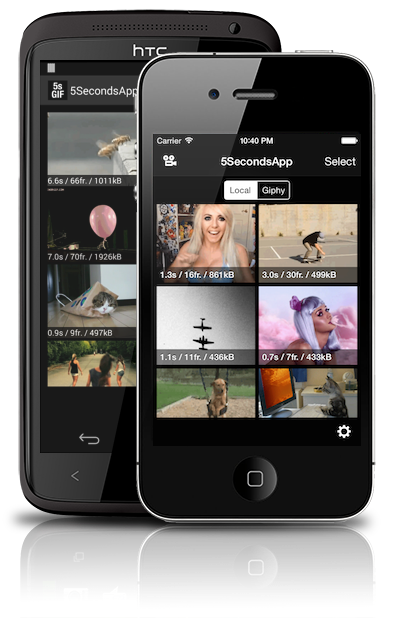 5SecondsApp is a FREE app that allows you to create animated GIFs from your photos and videos. 5SecondsApp allows you to edit animated GIFs by applying filters, changing playback speed, an adding your own text! It's extremely easy to create animated GIFs with 5SecondsApp.
5SecondsApp also allows you to search for GIFs using the Giphy GIF search engine! Find animated GIFs, save them on your device, and edit them.
Capture video on your device or use existing video or photos.
Search for animated GIFs using Giphy.
Apply filters to enhance your creations.
Add text annotations to your GIFs
Rearrange the frames of your GIFs
Control the speed of GIF playback
Save individual GIF frames as images
Share GIFs via MMS, Clipboard, Dropbox, Facebook, Twitter, Tumblr, Google+, Pinterest and Instagram.
Save GIFs to your device as a video (iOS).


Requirements:
iPhone, iPad, or iPod Touch; iOS 8 or higher.
Requirements:
Android v4.2 or higher.